Finalmente!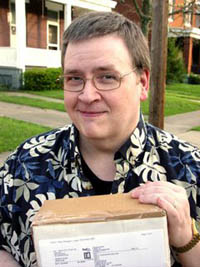 Ladies and gentlemen, the Bava Book is
FINISHED
.
This little box I'm holding contains 32 years of my life and 65 years of Mario Bava's. Coming your way from Video WatcHDog this summer.
Donna's been averaging three hours' of sleep per night this week in order to get this book done by the weekend. She finished the book's interior last Tuesday or Wednesday, Thursday she put the final touches on the dustjacket, and then she pulled an all-nighter Thursday to ensure that everything could be in the mail to our Hong Kong printer by the end of the day on Friday. Most of Friday was spent by a very tired lady dividing the book into more than 90 high-res files on four DVD-ROM discs. This task occupied her till after 6:00, too late to have the package picked up at our doorstep, but fortunately the Kinko's nearest our home accepts FedEx drop-offs until 7:00pm -- so we hopped in the car and rushed across town. We got there just in time for Donna to press the package into the FedEx driver's hands as he was about to walk out of the store.
So this is the fabled day we've been working toward for the past... oh, let's not dwell on all that. The book is now done and on its way to Hong Kong.
Mission finally accomplished!
I made the formal announcement of the book's completion last night while guesting on FANGORIA Radio with Dee Snider, Debbie Rochon and Tony Timpone (three terrific people who made me feel very comfortable on the air). I know that some of you heard my segment because we're already getting some "next wave" letters -- the ones asking "So when's it coming out?"
On the book's indicia page, we've listed a likely release date of July 2007. But of course some books make it out before their release date, and it's possible that we'll have books in hand before then. At this point, we have to hear a release date from our printer. The book -- 1128 pages, full color, 12 pounds per copy -- has to be printed and bound and packaged for shipment to us. As I understand it, the books will then be shipped to the west coast and driven cross-country to us. So they could reach us in June, but it could be later, and considering how arduous the shipping process is bound to be from our end, we don't want to promise anything before July.
So how do we feel after all this? Well, as I type these words, Donna is sleeping the sleep of the justified. As for me, I'm still in shock, I suppose; it will probably take a celebration to make this event real, so hopefully we can figure out something to do this weekend to mark the occasion.
Because Monday, we start working on VIDEO WATCHDOG #130.
Labels: Fangoria Radio, Mario Bava, Tim Lucas